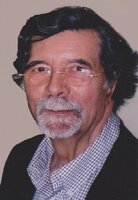 Francisco Gómez Astudillo
Francisco Gómez Astudillo died on the evening of October 8, 2022 in Fredericton, New Brunswick.
Francisco was born in Valle de la Serena (Badajoz), Spain, on December 6, 1934. Less than two years later, the Spanish Civil War began and Francisco's family had to flee their home on foot. In 1939, at the end of the war, Spain plunged into dictatorship. Francisco's father, Juan Francisco, who had been a captain in the Republican Army defending Spain's democratically elected Republic, went into exile in France. It was not until many years later that the family received news from him through the Red Cross. In October 1947, Francisco, his mother, sister-in-law, and siblings fled to France. Francisco's life was shaped by these experiences.
Despite many hardships as a refugee in post-war France, Francisco quickly mastered the French language and excelled in school. He received his Baccalauréat in 1955 and he graduated from the University of Toulouse with a degree in Political Science in 1961.
While studying in France as a young refugee, Francisco devoted as much time as he could working at the headquarters of the Spanish Socialist Worker's Party (PSOE) in exile (located in Toulouse during the Spanish dictatorship). In October 1956, he was elected a member of the Juventudes Socialistas de España (JSE) Executive Committee in exile.
In 1957, he went on a seven-month tour of the Americas organised by the International Union of Socialist Youth (IUSY), travelling from Chile to Canada to meet with socialist political leaders and activists. The Canadian tour concluded in Montreal where he met his first wife, Louise Holtved. She moved to Toulouse, France, where they were married. Their son, Francisco Gómez Holtved, was born in 1959.
On his return to Toulouse, Francisco served as trade union secretary on the JSE Executive Committee in exile. He was elected Secretary General of the committee in 1958, a post he held until August 1961. During those years, he worked to increase relations with youth in Spain, to help strengthen and revitalize the party.
In July 1961, Louise died. A few months later, Francisco came to Canada with his young son whose maternal grandparents were living in Ontario. Initially, he taught at Mount Allison University and, in 1965, he was hired by the University of New Brunswick in Saint John. While living in Saint John, Francisco met and married Pamela Parker in 1968. That year, he was transferred to UNB Fredericton. Soon after, their daughters Ana and Sara were born. In 1971, while working at UNB, Francisco obtained an MA in French.
In 1981, he was appointed Chair of the Department of Spanish, a position he held until 1992. In addition to teaching Spanish, he taught Comparative Literature in English. Francisco loved teaching and engaging with his students. He was active with the AUNBT, President of the UNB Film Society in its early years, served on various university committees, and organized art exhibits in the Spanish Lounge.
Over the years, Francisco and his family spent much time in France with his parents and siblings. In 1971, while on his first sabbatical leave from UNB, Francisco studied Comparative Literature at the Sorbonne in Paris, France, with René Etiemble. He obtained a DEA at the Sorbonne in 1979. Other sabbaticals led him to England and Spain. His research on the Spanish Civil War focused on the writings of George Orwell, André Malraux, and Arturo Barea.
Throughout his life, Francisco remained a member of the PSOE, visiting Spain on many occasions after democracy was restored. In April 2006, on the centenary of the first National Congress of the JSE, he received an award honoring his contributions to the movement to restore democracy in Spain. In Canada, he was an active member of the NDP.
Francisco was much loved by his family and friends. His great joys were his children and grandchildren. He was deeply attached to his family in France and Spain. Francisco was an intellectual, cultured, generous, witty, complex man with an adventurous spirit and a wonderful sense of humour. He loved music, literature, soccer, cinema, good food, and lively discussions with friends. He was equally comfortable in crowded cities or his own garden.
His strong political engagement was driven by a deep sense of social justice. As one friend recently wrote, Francisco will be remembered for the "slightly irreverent joy and laughter he brought wherever he went and also for the sanguine and heartfelt politics."
Francisco was predeceased by his first wife, Louise Holtved; father Juan Francisco Gómez Rodriguez; mother Maria Cleofe Astudillo Cordero; siblings Socrates Gómez Astudillo and Aurelio Gómez Astudillo.
He is survived by his wife Pamela (née Parker); children Francisco Gómez Holtved (Barbara Martin), Ana Gómez (Alex Baluta) and Sara Luisa Gómez (Stephen McAdams); grandchildren Sofia, Chloe, Maxime and Mercedes and step-grandchildren Minnetta, Fiona and Delphine; siblings Rosemarie Venturi (Mario) and André Gómez (Brigitte); sister-in-law Esther Gómez; brother-in-law Blackford Parker; nieces, nephews and cousins in France and Spain.
A celebration of Francisco's life will be held at a later date.
His family wish to thank the staff and volunteers at the Fredericton Hospice, where he spent the last three days of his life, for their supportive care. We would also like to thank the many dedicated medical professionals and caregivers who were involved in Francisco's care at various stages during a more than twenty-year struggle with Parkinson's disease.
For those who wish to make a memorial donation, the family suggests Red Cross, Parkinson Canada, or any charity of the donor's choice.