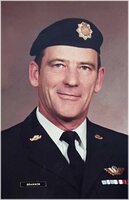 Ralph Weldon Brannon
1935 - 2022
Master Warrant Officer R.W. Brannon, MMM, CD, passed away on October 15, 2022 after a lengthy illness.
He is survived by his wife, Phyllis, and his children, Martin (Susan), Linda Quilty (Peter), and Philip (Heather). He was Pappy to his grandchildren, Jennifer Zinck (Ryan), Christopher Brannon (Rachel), Ashley Laird (Eldon), Stephanie, Emily and Natalie Brannon; and to his 6 great-grandchildren, Addison and Benjamin Zinck, Ivy, Jack and Henrik Brannon, and Laiken Laird. He will be dearly missed.
Ralph had a fulfilling military career for 36 years. He served with 1RCR, 2RCR, and the Infantry School at Camp Gagetown. He completed 2 postings in Germany and 3 peacekeeping assignments in Cyprus. Ralph was one of the survivors of the Werner Point Paratroop disaster near Ottawa in 1968. His quick wit and positive attitude were well suited to his duties of peacekeeping, paratrooping and teaching. Ralph was awarded the Order of Military Merit in 1985. After retirement he didn't stop, always working on something and always whistling.
Our family would like to thank Dr. Stephen Pond and the attending nurses at Extra-Mural for their excellent care. We would also like to thank our friends and family for their support. Special thanks to Vanda and David Gaudet and their daughter Bethany, who was very special to Ralph, and also Nancy and Gary Bird. Ralph cherished time spent with the New Maryland United Church Men's Club.
There will be no visitation or funeral service at per Ralph's wishes. A family committal will take place at a later date. In lieu of flowers remembrances can be made to the Heart and Stroke Foundation, Canadian Cancer Society, the New Maryland United Church or a charity of one's choice.