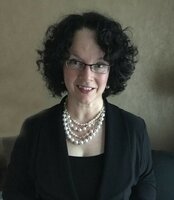 Heather MacDonald-Bossé
It is with great sadness that we announce the passing of Heather MacDonald-Bossé at the age of 62 at Hospice House Fredericton on October 30, 2022.
Heather is survived by her husband, Don Bossé, daughters Jessica Bossé (Marc-Etienne Rodrigue) and Emily Bossé (Jacob Martin), mother Ida MacDonald, sisters Marie Macdonald, Deanna MacDonald, Chantelle MacDonald- Newhook, and grandsons Felix and Jasper. She is predeceased by her father Ben MacDonald.
Heather lived her life with grace, gratitude, good humour and pragmatism. She drew in good people and filled her life with family and community. She was kind, intelligent, principled, funny, beautiful, and curious. Until her last day, she was always asking how she could make others more comfortable.
Heather was born on July 8, 1960, in Kamsack, Saskatchewan. In 1974, the MacDonald family moved to Campbellton, New Brunswick, where Heather made lifelong friends. Heather formed many strong relationships during her five years at St. Thomas University, where she graduated with a Bachelor of Arts (1982) and a Bachelor of Education (1983). It was at St. Thomas where Heather met her future husband Don Bossé. Heather's career included working as a youth corrections councillor, a preschool teacher, Director of Alumni Affairs at St. Thomas University, and as the Travel Media Relations liaison for North America with Tourism New Brunswick.
Heather made deep connections wherever she went—from the reading nook of a preschool to media tours in New York City. No table was ever too full, no place too occupied to include and engage with everyone. She loved the experience of travel and was deeply interested in the lives of those she met. She also loved the pleasures of home: a hot mug of oolong tea, the background hum of CBC radio, and the sound of leaves falling outside her window. Her greatest legacy will be how she modelled a life well-lived to family, friends, colleagues, neighbours and anyone she met.
If you ever had the pleasure of saying "I love you" to Heather her answer was always "I love you more." She had a heart with infinite room—she loved her life and all who were in it more than we can say.
Heather's family wishes to thank the wonderful nurses, staff and doctors at Hospice House Fredericton, the Palliative Care team and the staff on 4SE at the Dr. Everett Chalmer's Hospital, Dr. Will Stymiest, Dr. Craig Prime, and Heather's friends who loved and cared for her during her illness.
A visitation will take place at McAdam's Funeral Home on Thursday, November 3, 2022 from 5pm to 8pm. A Mass of Christian Burial will take place at Holy Family Catholic Parish Church on Friday, November 4, 2022 at 12pm. In lieu of flowers, donations can be made to the Heather MacDonald-Bossé and Ben MacDonald Legacy Fund at Hospice House Fredericton, or to the St. Thomas University general scholarship fund.