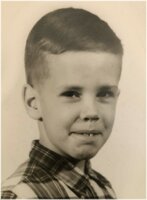 Walter Dugald (Butch) Vail
Falling somewhat short of my goal of living forever, I am survived by my pals and loves, wife Heather (MacDiarmid), daughter Laura Vail (Tom Patterson) and granddaughters Alice, Winnie and Pearl.
Also survived by my sisters Penny Dunbar (Doug) and Candy Lambert (Mark) and special "sons" Geoff Vail (Emily) and Mike Vail (Jean), several nieces and nephews.
Predeceased by my parents Kip (2000) and Todie (2001) and brothers Chip (1985) and Peter (2003).
A special thanks to my pal Greg Machum and to all my friends and clients.
What a great time I had - it's either all over or on to the next adventure.
Walter Dugald (Butch) Vail
Wally's Happy Hour
Please join the family for a drink and a snack on Friday, January 13, 2023 in the Jim Myles Auditorium at the Charlotte Street Arts Centre, 732 Charlotte Street, Fredericton between 5 and 7 p.m.