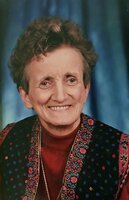 Shirley Cordelia Tapley
It is with sadness that we announce the passing of Shirley Cordelia Tapley on Tuesday, November 29 , 2022, at York Care Centre, Fredericton, NB. Shirley was born in Maple View, Victoria County on December 23, 1937 to the late Edward and Glenda (Johnson) Tapley.
Shirley leaves behind her sister, Joan ( Tapley ) Cass; brother-in-law David Cass; nephew and niece, Stephen and Jennifer Cass ( all of Vancouver ); as well as her extended family, Mavis, Gerald, Cora, Robert ( d. 1967), James, Marilyn, Donald.
Shirley was predeceased by her sister, Rilla Grace McLean on November 4, 2022.
Shirley graduated from Fredericton Teacher College in 1957 and later achieved a Certificate 2 toward a Bachelor of Education from UNB. From 1959- 1978, she worked in clerical & supervisory positions with the provincial Department of Health in Fredericton. For 38 years, Shirley was an Associate with the Anglican Sisters of St. John the Divine ( Toronto ) and active member of the Order of St. Luke. She volunteered with community and church groups and enjoyed many friendships along the way.
Special thanks to cousin, Janet; to friend, Sherry and to Rev. Canon Kevin Stockall and to the caring staff at Dixon, YCC.
A celebration of Shirley's life, as well as the burial will take place at a later date. Memorial donations can be made to the charity of your choice.