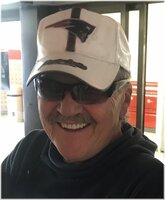 Ernest "Ernie" Richard
It is with great sadness that we announce the passing of Ernest "Ernie" Richard on January 1, 2023, at Hospice House Fredericton. Ernie passed away peacefully surrounded by his family. Born on July 27, 1954, in Moncton, NB, he was the son of the late Eugene and Marguerite Richard.
He was the cherished dad of Joleen (Habib) and Naythan and a pépère to Eska and Enzo.
Ernie is survived by his sisters, Jeannine (Bob), Bernadette (Gary) and Catherine Pineault. He is also survived by his brothers, Andy (Debbie) and Bernie (Dorine) as well as his nieces and nephews. Ernie was predeceased by his mother and father, brothers, Marc and Paul, and his sister, Rosemarie.
Dad never let us leave without a warm hug, a kiss and an I love you. Ernie would disagree with anyone that would say that there is a better team than the Patriots and he wore his Patriot hat proudly.
Ernie was known for his witty sense of humor and positive outlook and attitude on life. He leaves us with a saying: "May you live as long as you want, and never want as long as you live." May his legacy live on to live every day to its fullest and do not stress over things we cannot change.
Ernie was an amazing musician. He was known for taking out his Martin guitar at any social event and starting to sing. His children will always remember the songs he played for them growing up: "Tennessee Flat Top Box" by Rosanna Cash, Dr. Hook from the Cover of the Rolling Stone and his bedtime lullabies to his children – "Whatever Will Be, Will Be" by Doris Day. His grandchildren will miss his famous song to them: "Ton petit chien madame". His children will also remember driving with dad in his 1975 Scout singing along to ZZ Top's "la Grange" and "Hold the Line" by Toto.
Ernie's family wishes to thank all staff at Hospice Fredericton. Each and every one of them have made a difference and made us feel comforted by their generosity.
By Ernie's request there will be no services. For those who wish, memorial donations may be made to Hospice House Fredericton.