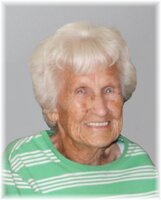 Mavis Alice Christine Wood
Mavis Wood (January 13, 1935 – January 9, 2023), passed away 4 days short of her 88th birthday.
Mavis was predeceased by her parents, Georgie (Somerville) Stewart and Clarence Stewart, her husband, Gerald Wood, a son, Jerry Wood, and a granddaughter, Rebecca Wood.
She adored her family and is survived by a sister, Jeanne Wall and two sons, Ron (Melanie) and Stephen (Aleta). Grammie dearly loved her grandchildren, Kolin Wood (Olivia), Jennifer Wood Tym (Case), and Stephanie Wood (Heather). Her great grandchildren were very precious to her: Pieter, Benjamin and Lillian Tym, Mackayla Wood and Elliott Wood. Special niece, Pat Kilfillen (Rick) and Rebecca's partner, Scott Somerville, were loved by Mavis. The grandchildren were all known as "Grammie's boy or girl" and they were always cautioned by one of her favorite sayings, "You be careful".
We would also like to acknowledge and thank our very special friend, Dr. Gordon McDonald who has always provided such compassionate care to us all.
Mavis loved to be outdoors enjoying the sunshine, backyard BBQs, walking and gardening. Many would attest to her ability to not only grow tasty tomatoes, peas, carrots, cucumbers and potatoes but to also produce beautiful blooms for everyone to enjoy. Many have benefitted from her crocheting and knitting skills, warm sweaters, mittens and dishcloths being her specialties. Her baking and cooking skills could not be matched (supplying all of her family with her cooked strawberry jam all year 'round). Her divinity fudge, raisin brown bread, donuts, assorted cookies and squares were the best. Every roast beef dinner was cooked to perfection. Her whole family remembers her fried egg sandwiches prepared for road trips and the sweet treats she couldn't resist such as: chocolate chip cookies, gingerbread boys, scotch cookies, candy corn, peppermints, ice cream cake, jelly beans, soft candy canes, donuts and timbits.
Visitation will be on Saturday, January 14, at McAdam's Funeral Home from 10:00 to 11:30 a.m. A Celebration of Life service will be held in the funeral home chapel from 12:00 to 12:45 p.m., with a reception following. Interment will take place at a later date in Marysville United Church Cemetery. For those who wish, memorial tributes in Mavis's honor may be made to Hospice House Fredericton. Online remembrances may be left at www.mcadamsfh.com.
We shall end this with Grammie's famous farewell "Be happy!".